A Legacy of Quality Forest Products and Exceptional Service Since 1921!
Quality Appalachian Hardwoods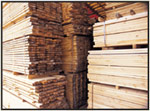 Located in the heart of North Central Pennsylvania's renowned hardwood timberland, Patterson Lumber Co., Inc. is a fourth-generation, family-operated, high-production hardwood sawmill.
Renewable and Responsible Land Management

We take very seriously the management of timberland that we are entrusted to harvest. Our selective harvesting techniques were developed to maximize timber yield while enhancing forest health so as to speed the renewal of your forest and minimize the time until your next timber harvest.
Timber and Land Buying
After 4 generations of timber and land buying, Pattersons' legacy of integrity and fairness is well known. Our promise to every landowner that we serve is that we will treat you (and your land) well. We will give you a fair price for your timber and your land. Contact us today and we will schedule to have one of our staff foresters evaluate your property.
Export-Quality Kiln-Dried Hardwood
Patterson Lumber Co., Inc. is capable of delivering large quantities of export-quality hardwood. Our massive kiln drying capabilities and dry lumber storage facilities allow us to fulfill domestic and international orders with the finest hardwood lumber. Contact Us today.
Patterson Lumber Co., Inc.
Administrative Office
Wellsboro, PA
570-724-3210
• Hardwood Lumber Manufacturers
• Custom Widths and Color Sorts
• Timber and Land Purchasing
• Forest Renewal Management
• Dry Kilns • Export

Patterson Lumber Co., Inc.
Sawmill Office
Galeton, PA
814-435-2210